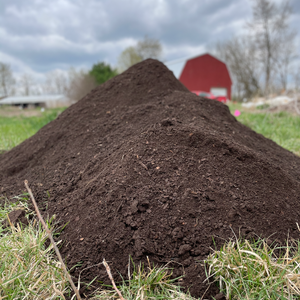 Finished Compost (Bulk)
Sale price Price $75.00 Regular price Unit price / per

Someone from our team will be delivering your compost to your driveway or yard.
We will only be able to drop the compost in a pile; it is your responsibility to move the compost to your garden or designated area.
Delivery details will be confirmed along with date!
Delivery fee will be calculated at checkout as follows:
*1-2 yards = $35
*2-4 yards = $50
**if you order more than 4 yards we will be in touch with a potential delivery fee depending on yardage ordered but a $50 fee will be included for delivery upon checkout**


---

About our compost:

Our compost is a combination of locally collected food scraps, leaves, landscaping and composted manure. Our partnering farmer has over 40 years' experience with aerobic composting, and has learned what formula, ingredients and processes make great finished compost! Our compost feels and smells like rich, dark earth and is packed with beneficial nutrients.

Compost rejuvenates the soil structure and fosters healthy plant growth. It's perfect for amending soil, vegetable gardens, flower beds/gardens, lawns and potted plants.


---
Large quantities are available - please email compost@grounddown.org if you need more than 2 yards.
Note: we are also working on a pick-up option that will be available starting in the Spring on specific weekends.