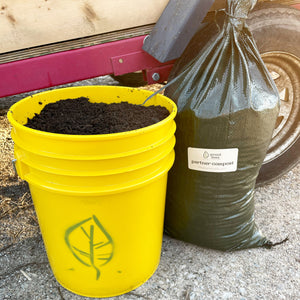 Finished Compost (Container)
Sale price Price $30.00 Regular price Unit price / per
Our container compost is roughly 1 cubic foot or 7-gallons.

This year we're utilizing 7-gallon bins we've taken out of circulation to deliver your compost. If we run our of bins, you'll receive your compost in an upcycled (landfill saved!) sandbag. 
---

About our compost:

Our compost is a combination of locally collected food scraps, leaves, landscaping and composted manure. Our partnering farmer has over 40 years' experience with aerobic composting, and has learned what formula, ingredients and processes make great finished compost! Our compost feels and smells like rich, dark earth and is packed with beneficial nutrients.

Compost rejuvenates the soil structure and fosters healthy plant growth. It's perfect for amending soil, vegetable gardens, flower beds/gardens, lawns and potted plants.